Comprehensive Pain & Rehabilitation Welcomes New Physician Assistant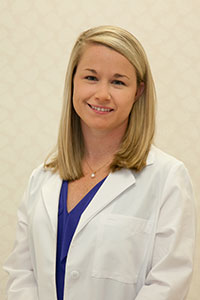 Daphne, AL (October 24, 2012) - As Comprehensive Pain & Rehabilitation (CPR) continues to grow, the practice's physicians are pleased to welcome Allison Garstecki, PA-C, MHS, as a new Physician Assistant. Ms. Garstecki earned a B.S. In Biology from the University of Alabama and Master of Health Sciences in Physician Assistant Studies from the University of South Alabama in Mobile. She is licensed in both Alabama and Mississippi. Ms. Garstecki began her position October 1, seeing patients in CPR's Pascagoula and Daphne clinics.
"I'm honored to be a part of a medical practice with high-ethical principles and such an outstanding reputation in the community," Garstecki says. "CPR is unique. True to its name, CPR offers patients more comprehensive options for pain relief, including new interventional and injection therapies. I'm a Mobile native, so I feel especially blessed to be serving people in my own hometown." (Photo: Allison Garstecki, PA-C, MHS)
"Ms. Garstecki expands our practice's ability to diagnose patients and evaluate their progress as they begin therapy," notes Dr. Hunt Hapworth, CPR physician partner. "She is compassionate, attentive and detailed, already demonstrating exemplary care with our patients."
Ms. Garstecki's hobbies include running, boating and inshore fishing with her father and brothers.